I've been telling everyone who will listen that "The Voice" is like "The Godfather."  Everything you've ever needed to know about business is hidden in the movie ("Learn how to cook you may have to feed a bunch of guys one day.") and now in this TV show.
When things weren't going well in my company I started to realize that I may need to plan how I would say goodbye if I was "voted off the show."  I told myself that on that day I should go out like they do on "The Voice" and not like one of those crazy contestants on "American Idol" who doesn't get a yellow ticket and has to be dragged off the set.  When that day came this past January I did exactly like they do on the show.  I thanked the manager for the opportunity to work for a great company and told him that I would see him out there in our industry because I would keep plugging away because this is what I was meant to do.  The show made what could have been a very emotional day for me – unemotional and almost scripted.  No one wants an awkward exit interview – not the manager who's just cutting costs and not you because one day you'll need a reference from that same manager.  There is nothing to be gained by giving the manager the finger or my favorite – from Broadcast News – "I hope you die soon" on your way out the door.  So why not go out on a thankful and gracious note?
This week I was surprised when I learned another lesson from the show.  One of the very talented young ladies, Bria Kelly from Usher's team got voted off the show.  She was very emotional the night before when Coach Adam told her he was not thrilled with her performance.  The criticism was very mild and for those of us used to Simon Cowell, it wasn't even close to being harsh.  But in the atmosphere of "The Voice," maybe she was just not prepared to hear what she thought was brutal criticism.  She left the stage in tears and it must have been tough on her and even tough on Adam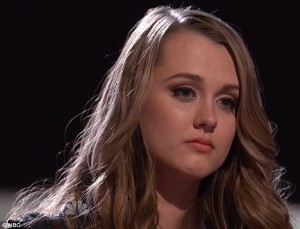 who comes across as a very caring coach.  When the elimination happened this week, Usher said these words that can be applied to so many of us looking for gigs.  "Just remember you are not defined by what someone else thinks about you.  What you are is amazingbecause you say you are!"
How many times have you applied for jobs, not heard anything and felt a little rip in your confidence?  My resume was critiqued today and I felt a little break in my warrior armor.  I read an article yesterday about a law librarian who talked about age discrimination and how he has felt "less than" in a world that puts less value on the older workers.  And then there are those who have been out of work for over a year and feel like the next gig is never going to come there way.  Maybe I'm being extremely optimistic but Usher's words made my day.  And I'm going to write them on a post it note so I can see them every day.  For the rest of my fellow job seekers who are 40 plus remember – you ARE AMAZING because you SAY YOU ARE!  Keep saying it and that may just be the spring in your step that gets you your next bestjob ever!
To hear Usher say it go to 3:14 into the video:  https://www.youtube.com/watch?v=UhLrdFI5waQ