I remember in the early days of my son being diagnosed with autism, many of my friends said, "you should write a book about this." At the time, I didn't have time to take calls from friends or even leave the house for something not taylor related. So I never got to the book. It was a great idea, but something I didn't believe in.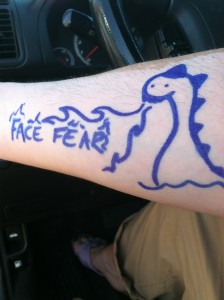 Which brings me to the early days of starting my business.  It's minus week one and I thought, here's the chance to document things you get wrong as you start lining up a business.
"Ask for advice." Some say it is what you do as you make your way around the meetup and networking events. Done! But be ready for those bubble deflating moments where someone says, "oh there are a lot of those companies around.. and yes they are run by women!" Yikes!  Bubble deflated and a new round of "should I really be doing this" questions start jogging around the racetrack that is your mind.
My best advice to myself right now is, surround yourself with believers! Yes you need smart people looking at your idea and pointing out pitfalls. But there are plenty of people ready to defecate on your bright and shiney idea. Don't let it happen. Keep your beliefs quiet when surrounded by the naysayers and surround yourself with people who say, "you can do this."
Where do I glean this advice from? Doing my first triathlon! The Iron Girl people know that most of what is accomplished is in your head. You have to look at that dark and stormy lake and with plenty of preparation, look fear in the face and say I know I can do this because I stand with a bunch of people who know I can do this. Dive in! The water is cold, but everything you've done before this day has prepared you for this moment.
As Phil Phillips says, "don't pay no mind to the demons they fill you with fear."