It is no secret that I'm a crazy Met fan. Is there such a think as a non crazy Met fan? You have to love a team that gets this close to winning the World Series and comes back in 2016 with a bigger and more committed fan base.
In my real life I spend a lot of time talking about reputation with small businesses. And you would think baseball with its million dollar players has little to do with small businesses and reputations but you would be wrong.
Daniel Murphy had a stellar end of season run with the Mets but at the end of the year his contract wasn't picked up. The Mets decided the price was too high to pay for a player who connected late in the season but was unreliable in the beginning. After last nights game I think they are regretting that choice.
Daniel moved on to one of the biggest rivals of the Mets – the Washington Nationals. But his return to Citi Field was a lesson in humility and a wonder to behold. His first night back in Queens the team played a video highlighting Murphy's achievements in 2015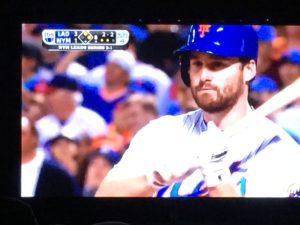 and thanked him for all he did to get the team to the World Series.
Before the last game in the series Steve Gelbs at SNY interviews Daniel and his responses are a master class in great public relations. Daniel is thankful for the warm welcome the team and the fans gave him. He gives equal time to mentions of Mets players and management and also mentions his new National teammates and managers. And at no time does he ever say, "I was so great," even though Steve asks him how it felt post season to see all the home runs he drove in. Daniel doesn't take the bait and calls attention to the Mets pitching staff. And let's be clear – home runs are a one man vs. pitcher kind of act. To deflect the praise and turn it back to the team that eventually let him go is some kind of marvel. I am in awe of the humility he shows and yet we all know he works very hard to be this good.
It reminds me of the old adage, "never let them see you sweat." We all work very hard to be as good as we are. But calling attention to the people who help you on a daily basis tells the story that you are a team player who is willing to share the spotlight. Can you call attention to your teammates when the blinding spotlight is shed on your abilities? Can you share the glory with the people who made it all possible? Every single one of us stand on the shoulder of those that came before us.
I work in the world of websites and social media. I described a new facebook page to a client yesterday as their own newspaper. They can fill it with whatever stories they want to. What would it mean to the workers at your business if you created content that highlighted the great job they do every day? Seeing that kind of praise online, noticing the work that they do and telling the world, don't you think that worker would become the biggest fan of your company? Don't you think that attention would turn them into a better worker? Hire someone to tell the stories of your business. Every single worker has a story! I promise you it will make a bigger difference than you know!
I plan on remembering Daniel as I go about my day and hope to be as humble as he is whenever I am asked, "how do you do it all?"
Daniel Murphy Shows What It Means To Be A Team Player