B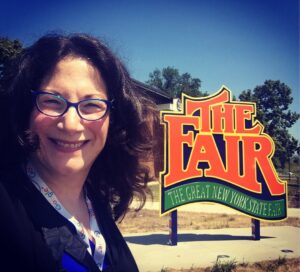 right Ideas CNY was the company I created when I moved on from a lifetime of radio positions. You might remember me from any of the stations in Syracuse when I was on the air as Dee Collins.  I had my dream job doing traffic for Y94, B104.7, and WSYR.
Early in my career I was an internet pioneer and managed Sybercuse.com, an award-winning Syracuse city site. I then combined my love of technology and radio on the national stage at Westwood One where I was a top sales and marketing manager.
I'm now bringing my expertise in digital platforms and marketing to local Syracuse businesses.  I have a small group of financial services companies, construction firms, not for profits and law offices that make up the Bright Ideas family.
Speaking of family, I have an amazing husband Mark and 27-year-old son, Taylor.  We're all a part of the Challenger Baseball family.  We are so proud of Taylor who has a part-time job with Tully's restaurant making all the desserts and being a part of the prep team. Check out their Peanut Butter Pie!  If you are at the Cicero location, Taylor is the one who made it!
One of the best things about running your own business is getting to meet so many other hard-working business owners.  I'm always ready to take on a new challenge and many businesses come to me when they just don't understand what services they need and what ones they can save money on.  Explaining websites and updating pages that haven't been refreshed in 10 years is really an exciting part of my job.