B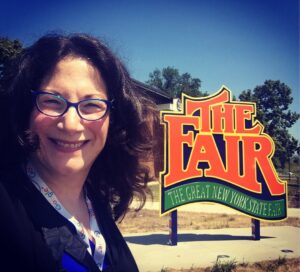 right Ideas CNY was the company I created when I moved on from a lifetime of radio positions. You might remember me from any of the stations in Syracuse when I was on the air as Dee Collins.  I had my dream job doing traffic for Y94, B104.7, and WSYR.
Early in my career I was an internet pioneer and managed Sybercuse.com, an award-winning Syracuse city site. I then combined my love of technology and radio on the national stage at Westwood One where I was a top sales and marketing manager.
I'm now bringing my expertise in digital platforms and marketing to local Syracuse businesses.  I have a small group of restaurants, financial services companies, and law firms that are part of the Bright Ideas family.
Speaking of family, I have an amazing husband Mark and 24-year-old son, Taylor.  We're all a part of the Challenger Baseball family.  Mark is the Mets coach, I'm the Yankees coach and Taylor is an amazing player on the Mets. Taylor has autism and we are also involved in other special needs organizations.
One of the best things about running your own business is getting to meet so many other hard-working business owners.
I'm a huge Mets fan too and finally got to Citi Field in 2019!  It was a huge happy day for me when the Mets bought the Chiefs.  It is wonderful to see all the Mets shirts around Syracuse!  You can usually find me next to Jason Smoral taking our traditional "SELFIE!"