It's been a long week. Customer service is dead. Some of  you have heard my complaints about what has happened over this long week and at this point I just want to document step by step what has happened and why this is unacceptable. This is a story of two domains and three google apps for work accounts.  Here we go.
Friday July 3rd. I call Bluehost telling them I want to set up an additional google apps for work account for my business.  I currently have two domains on my one bluehost account and want to know the best way to set up a google apps account for the second domain. The gentleman tells me we can use the domain as a sub domain under deeperkins.com and set up the google apps as alias's to the main account.  This sounds fishy to me but he tells me this is the best way.  I start the process and immediately get hung up on adding the new google apps "seats." (That's what they call them.) By the afternoon – around 4pm I call and say I'm willing to purchase a whole new bluehost account (*161.00) just to make sure this happens flawlessly.  When we set up the second bluehost hosting account I remind him to cancel the two additional seats at deeperkins.com so I'm not purchasing multiple seats.  We get to our first issue.  Google now has the new domain dmarkit.com pointed to deeperkins.com. It will take 48 hours for them to release it before I can add two google seats.  Frustrating.. but my hopes are that Monday or Tuesday we can crank this out without an issue.  In the meantime I set up two accounts on the free email hosting platform available from bluehost and they work without a problem.  Woo!  Maybe I'll stick with free!
Friday night a friend texts me. She says "your deeperkins.com email address isn't working." I login to realize that instead of deleting the 2 additional google seats I bought – he deleted ALL OF THEM including my main domain deeperkins.com. That is where my calendar lives.. email.. everything. I call bluehost and they say there is nothing they can do – I have to call google.  And a simple "good luck with that." No "I'm so sorry" .. no "I have google's number and I'll transfer you.." NOTHING.  I know it was Friday night at 10pm so you get what you pay for.  But keep in mind it was 8pm mountain time where they are located (that comes up later).  I call Google Apps on Friday night at 10pm.  They tell me the account is active and all bluehost had to do was change the mx record back to google and everything would be live again.  I do that and my original email and calendar come back.  However I now have to worry that since it isn't paid for – someday this will disappear again.
Monday morning.  Email is working fine but my partner wants the calendars to sync. I had a google account mirroring the calendar in outlook and then removed it because of an error message.  Once that account was taken away – no more calendar sync.  The only way for calendars to sync is to use a google or microsoft account or get an exchange server.  I call bluehost to finish the google apps process. They set up the account on dmarkit.com but not without a call to google for them to find where the alias lived. Once that was set up my partner lost his access to email.  As you can imagine the MX record was pointing in two directions. On the phone til 9pm trying to straighten this out.  Called Bluehost to add an additional google apps account for my partner.  They said it would take 48 ho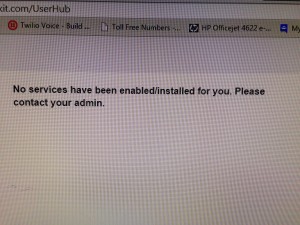 urs to populate.  Sigh.
Thursday afternoon I called bluehost realizing that google apps are usually automatic. It shouldn't take 48 hours. They agreed that I was given bad information but that even though they could see the extra seat I purchased google could not.  They suggested I call google.  I called google. They suggested that I contact bluehost and ask for domain control to be given back to google so they can make this all work.  I sigh and rethink everything. This is at 9pm on Thursday.
Friday more calls to bluehost. They say the operations team should handle this and they aren't in until 11am eastern. (Mountain time and they don't come in before 9am?) The same tech at bluehost said there should never be two google apps accounts through bluehost with different domains.  Seriously?  Why are you a reseller?  In the beginning of this horrible process I guessed that. But when I tried to set up google apps on my own without the help of bluehost – google recognized that the domain was controlled by one of their resellers.  Once they saw that they sent me back to bluehost to buy the apps account.  CHECKMATE.
LUCKILY I downloaded all email at this point using outlook because I can't be sure of anything.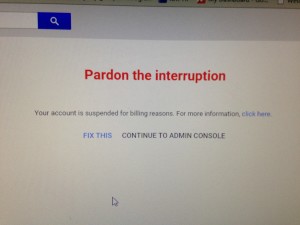 SATURDAY.  Today I just woke up just wanting to document this. This entire process leaves me doubting my skills, my love of IT, everything. I figure if I just write it all out I will purge all the bad feelings that have built up over the week.  I start up my laptop and I see the picture to the left.  I opened my email to try to find some of the bluehost emails and I get this error message.  "Your account is suspended due to billing issues."  I have NEVER removed a credit card through this entire process.  They have my money.  They have lots of my money. So now I get to go through the entire weekend having lost all three email accounts with Bluehost. My guess is this blog post will be deleted when I remove my accounts from bluehost. But I had to get this out of my system.
SATURDAY: Tried to transfer this domain to godaddy but guess what? it's too NEW and won't transfer for 60 days. So now it's time to create a new domain for emails.  Welcome to hell my friend.
SATURDAY 11am:  Typical chat from our friends at bluehost.  1/2 hour to find out – call back monday!
So what is our lesson? Don't use Google Apps for Work with Bluehost.  And back everything up using Outlook.